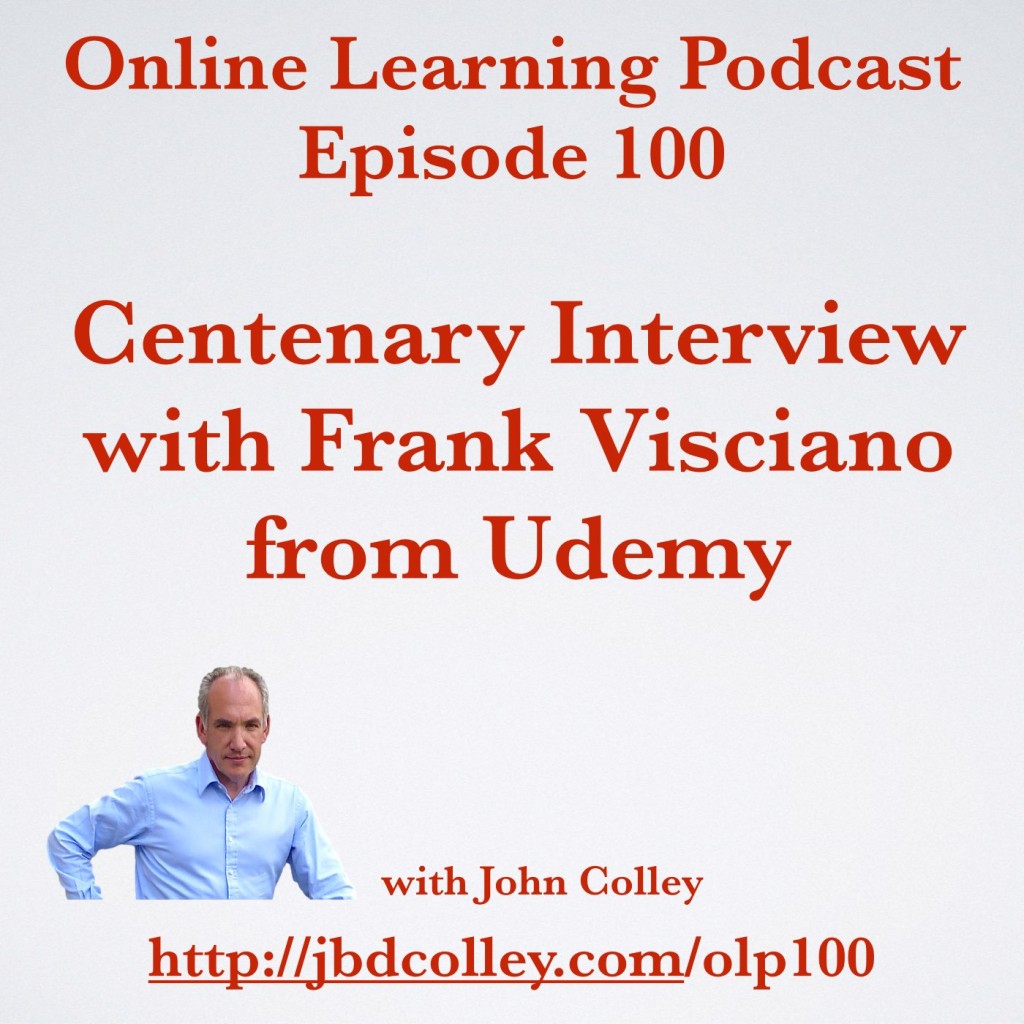 In today's Episode of the Online Learning Podcast, I am delighted to welcome Frank Visciano from Udemy. Frank is the Head of the Instructor Team at Udemy and he kindly provides a helpful and candid insight into the current thinking at Udemy on a wide range of issues important to both students and instructors. For the 100th Episode of the Online Learning Podcast he is the perfect guest and I am very grateful to him for making the time and contributing so much to our discussion.
Special Exclusive Download - How Rob Cubbon Makes $5,000 a month with Online Courses and eBooks (including 11 Great Tips and 4 Example Promotion Advertisements)
In this Week's Episode: Frank Visciano, Instructor Team Lead at Udemy
In this Episode we discuss:
The importance of student success and satisfaction
How Udemy are focused on the student experience whilst experiencing a rapid increase in both courses and student numbers
How Udemy Courses are expanding in diversity and languages
Why Udemy continues to make investments in discovery and search
How more and more Courses are being taken on mobile platforms
Why Udemy places such an emphasis on student engagement
Why it is important for Instructors to create courses with real impact
What Udemy sees as the "magic pathway"
Why Instructors are rewarded with greater visibility if they improve the student experience
The importance of Learning Objectives in the search process on Udemy
Why activation is an important issue for instructors and Udemy post enrolment
Why Frank agrees that a Welcome message is a good idea
The importance of responding promptly to questions from students
Why Udemy works so hard at engagement analytics
The multi-channel marketing approach taken by Udemy in promoting courses
Master Udemy Special Offer - Just $29.00 - Time Limited!
To celebrate the 100th Episode of the Online Learning Podcast I am offering my Master Udemy Premium Course at a 90%+ with limited coupons. You can enrol in this $497 course for just $29 by following this link
Don't forget to check out my Courses on Udemy which you can find at http://jbdcolley.com/udemy.
I need your help!
If you haven't already, I would love if you could be amazing and take a minute to leave a quick rating and review of the podcast on iTunes by clicking on the link below. It's the most amazing way to help the show grow and reach more people!
Leave a Review for John's Podcast by clicking on this link
Don't Miss An Episode! Subscribe Below:

Using something Else? Copy this Address: http://jbdcolley.com/olpfeed or http://jbdcolley.com/feed/podcast/?wpmfeedkey=1;e975168c39a63e2f7befd9ba8758bf9e
*** Full Disclosure: these are affiliate links. If you click on this link, you will not pay any more (you still get the full discount) but I will earn a Commission. If you do buy a course, please email me at john[at]jbdcolley[dot]com and tell me about it. I would love to thank you personnally for supporting The Online Learning Podcast! Don't forget you can still access the Course and the discount without going through the Affiliate Scheme by simply searching for the Course on Udemy and using the Coupon Code at Checkout in the normal way. If you do this, Udemy will receive their normal commission and the Course Creator will get the whole of the balance. It is entirely up to you :)