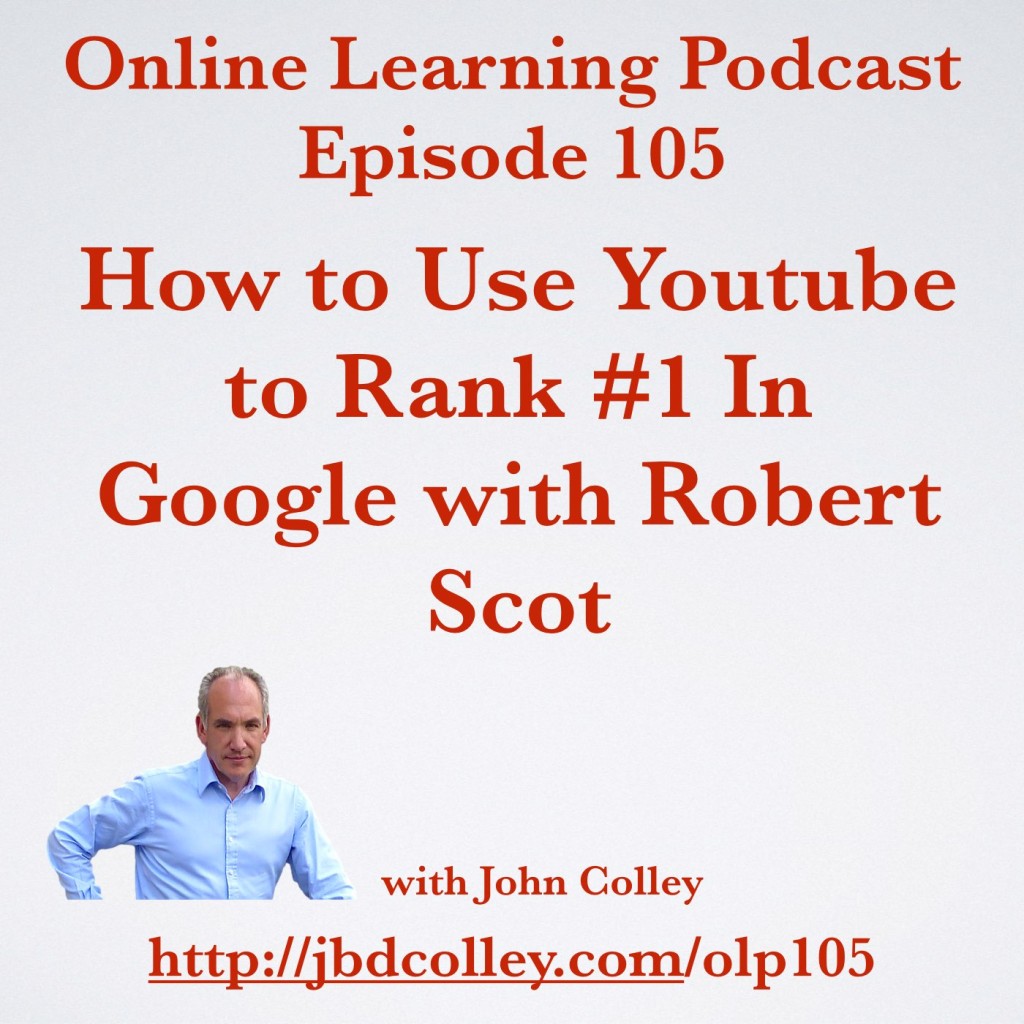 In today's Episode of the Online Learning Podcast, I am delighted to welcome Robert Scot, "Dr Youtube" who provides fantastic advice on how to use Youtube to rank in Google. This is truly exceptional episode at Robert generously shares amazing advice on how to get your Youtube Videos to rank #1 in Google. Don't miss his amazingly valuable tips and advice!
Special Exclusive Download - How Rob Cubbon Makes $5,000 a month with Online Courses and eBooks (including 11 Great Tips and 4 Example Promotion Advertisements)
In this Week's Episode: Robert Scot

In this Episode Robert and I discuss:
How to optimise your Youtube video using keywords and phrases
How to make the most of links in Youtubes description box
What Robert's formula is and how it works
How to optimise your Youtube video to rank #1 in Google
How to use the words a potential customer will use to find you
His preview lecture demonstrating his technique in his course
What is meant by high competition in Youtube
What you should place keywords early in your titles
The magic of close captioning and how to optimise it
Why close captioning makes errors that can affect your rank
Why close captioning is a critical area of indexing
The Youtube description box and how to optimise it
The importance of planning your Youtube Campaigns
Why you might need to start your Youtube Video channel from scratch
The importance of back linking and how to do it right
Why great feedback makes great courses
Enrol in Robert's Courses for just $19 with coupon code "OLP19":
How to Contact Robert
You can find out more about Thushy at his website: http://virlvideo.com
You can also find Robert on Udemy at www.udemy.com/u/robertscot
New Course: Win at Business Development: Get More Leads and Sales Fast - Just $29.00 - Time Limited!
To celebrate the launch of my latest course you can enrol for just $29 (compared to the normal list price which will be $197) by using code "OLP29". Just click on this link to go direct to the course:
https://www.udemy.com/business-development-sales/?couponCode=OLP29
Don't forget to check out my Courses on Udemy which you can find at http://jbdcolley.com/udemy.
I need your help!
If you haven't already, I would love if you could be amazing and take a minute to leave a quick rating and review of the podcast on iTunes by clicking on the link below. It's the most amazing way to help the show grow and reach more people!
Leave a Review for John's Podcast by clicking on this link
Don't Miss An Episode! Subscribe Below:

Using something Else? Copy this Address: http://jbdcolley.com/olpfeed or http://jbdcolley.com/feed/podcast/?wpmfeedkey=1;e975168c39a63e2f7befd9ba8758bf9e
*** Full Disclosure: these are affiliate links. If you click on this link, you will not pay any more (you still get the full discount) but I will earn a Commission. If you do buy a course, please email me at john[at]jbdcolley[dot]com and tell me about it. I would love to thank you personnally for supporting The Online Learning Podcast! Don't forget you can still access the Course and the discount without going through the Affiliate Scheme by simply searching for the Course on Udemy and using the Coupon Code at Checkout in the normal way. If you do this, Udemy will receive their normal commission and the Course Creator will get the whole of the balance. It is entirely up to you :)